SIR MO FARAH'S wife Tania Nell has spoken of discovering the decorated athlete's tragic past during their engagement. Sir Mo Farah, 39, revealed he had been illegally trafficked into Britain under the name of another child as a nine-year-old and forced into domestic servitude in a BBC documentary. His now-wife Tania Nell has admitted she always felt like there were "lots of missing pieces" to the sprinter's story during their engagement in 2009. 
However, Farah says that when he arrived in the UK he faced a very different reality: "I had all the contact details for my relative and once we got to her house, the lady took it off me and right in front of me ripped them up and put it in the bin and at that moment I knew I was in trouble," he said.
Farah said his children have motivated him to be truthful about his past, saying: "Family means everything to me and, you know, as a parent, you always teach your kids to be honest, but I feel like I've always had that private thing where I could never be me and tell what's really happened.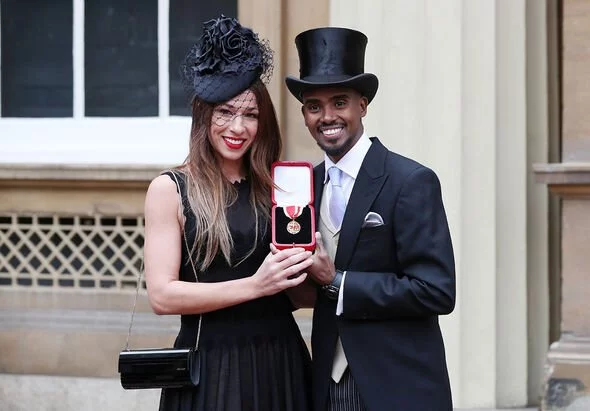 "I've been keeping it for so long, it's been difficult because you don't want to face it and often my kids ask questions, 'Dad, how come this?' And you've always got an answer for everything, but you haven't got an answer for that.
Farah's wife, Tania, said in the year leading up to their 2010 wedding she realized something was amiss and eventually "wore him down with the questioning" and he told the truth.
Tania shared: "I first met Mo in school, he was always smiling."That is what stood out about Mo amongst the groups of grumpy teenagers. Mo was happy-go-lucky.
"We were engaged by 2009, and it was during that period of time leading up to us being married that I felt like there were lots of missing pieces to his story. Behind the smile there was something there," she confessed.
The four-time Olympic champion had previously claimed he had left Somalia aged eight to join his father after his parents made the agonizing decision to send three of their six children to London for the chance of a better life.
However, in his documentary, the 39-year-old said that in fact he was trafficked to London by a stranger under an assumed name after escaping war in Somalia.
"Most people know me as Mo Farah, but it's not my name or it's not the reality," he said."The real story is I was born in Somaliland, north of Somalia, as Hussein Abdi Kahin."Despite what I've said in the past, my parents never lived in the UK."
Author: Andrew Collins
andrewc@gmail.com
London, UK