Christine Telfer is a Nigerian beauty queen. She was 23 years old when she has crowned Miss Earth Nigeria on 28th August 2021, and became the official representative of Nigeria at Miss Earth 2021. Her environmental advocacy is the promotion and preservation of biodiversity. She has also spearheaded a Poverty Alleviation Scheme for widows in Abuja. She has organised a campaign against malaria and also promoted its sensitization in rural areas like Ikon and Etung, both in Cross River State. A former Radio Presenter at HIT FM 95.9 where she anchored a health segment called "The Health Office" and has worked with several photographers and is armed with an enviable modelling portfolio. She is presently the TV Host of the Golden Brush Show.
Christine is a graduate of Human Psychology at the prestigious University of Calabar. Not new to pageantry, She competed at Miss Earth Nigeria 2019. Telfer finished fifth, earning the Miss Earth Nigeria Eco Tourism 2019 title. In the midst of her busy schedule, the stunning beauty has taken out time to talk about her advocacy, dreams, ambitions, and guilty pleasures in an exclusive interview with A-CHOICES.
A-CHOICES: Christine can you please tell us a little bit about yourself and educational
background?
CHRISTINE:I'm Christine-telfer Edet Ugah,I'm 24 years old.People learn every day and the learning process never ends till the day we go, I currently have a degree in physiology and also a degree in biotechnology, and hopefully will add more certificates to this soon.
A-CHOICES: Would you like to share your most special childhood memory with us?
 CHRISTINE: My most special childhood memories would be playing on the little farm we had in our house growing up, most especially climbing the huge tree. I spent most of my time there, if I wasn't climbing, I was probably reading a book.
A-CHOICES: How does it feel to be Miss Earth Nigeria 2021 and a participant of Miss Earth 2021?
CHRISTINE: With a big crown comes a huge responsibility, it was a defining moment for me, and representing my country on the big stage was something of great pride to me.
A-CHOICES: In what way is Miss Earth different from the other beauty contests? 
CHRISTINE: The miss earth is an advocacy bases pageant, it's not a pageant where beauty is at the forefront, even though it plays a role. It's a pageant where young women identify the environmental issues plaguing our society today and come together with ideals and solutions to curb these issues, therefore, giving to society and making the earth a better place.
A-CHOICES: What makes a good pageant role model? 
CHRISTINE: I must start with the fact that no human is perfect, but in all, we do we strive to be morally right. A good pageant role model should be truthful, truthful about their challenges and success, should be hard-working, zealous, bold and of course, be able to walk it as you talk it.
A-CHOICES: How do you deal with pageant nerves? 
CHRISTINE: Oh my, growing up I used to be a really shy and reserved person, I never wanted to identify with the spotlight. Pageantry actually helped me build my confidence and public speaking. At that moment when I feel tensed about whatever I'm doing, I count from 1 to 5 with my fingers and I remind myself that I am bold, confident and my opinion matters to the world and I go ahead and speak my truth.
A-CHOICES: What qualities do you believe a Miss Earth Nigeria should possess?
 CHRISTINE: Miss Earth Nigeria should be kind, honest, hard-working, diligent to her cause, beautiful, and must be able to work under pressure.
A-CHOICES: What inspired you to the world of pageantry, Previous beauty competitions? 
CHRISTINE: I want to make a difference, I want my advocacy to be heard. I have a message that I want the world to hear. And I knew pageantry is the perfect stage to have my voice heard.
A-CHOICES: Would you like to tell us something about your advocacy, promotion, and preservation of biodiversity?
CHRISTINE: My advocacy is on preserving and promoting biodiversity. And I championed a project on the protection and replanting of mangroves in Nigeria which Are being over-exploited currently.
A-CHOICES: How to protect Biodiversity-steps to protect Biodiversity?
CHRISTINE: The first step to protecting biodiversity is in understanding its importance to us, and understanding how a stable ecosystem helps keep life on Earth going. We must learn to love and embrace nature. From the little ants crawling to the huge mangrove forest, every life in nature must be protected.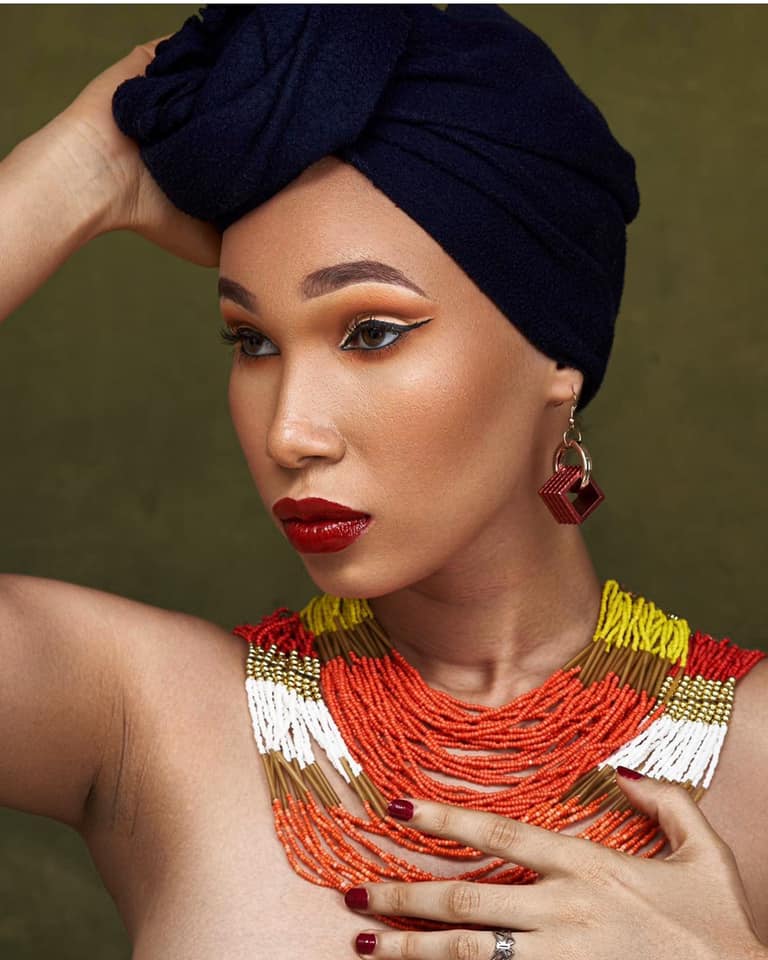 A-CHOICES: Why is Biodiversity important?
CHRISTINE: Biodiversity is important to maintain a healthy ecosystem, this ecosystem provides us with the air we breathe and the food we eat.
A-CHOICES: Would you say that conservation success is defined by helping nature thrive so the people who depend on it can too?
CHRISTINE: Exactly, this process runs in a cycle, what we give in is what we get. If we take care of our environment we in turn will have a healthy earth to live in.
A-CHOICES: Would you say that Nigerians need to do more to protect our environment? 
CHRISTINE: Very much yes, and not just in Nigeria, all over the world well. There are environmental challenges everywhere. We in Nigeria should try our best to cultivate habits that are beneficial to the environment, especially in the issue of plastic pollution, we should endeavour to dispose of our plastics properly also the government should create and enforce laws that will guide citizens in protecting their environment as well.
A-CHOICES: What or who empowers you to be yourself and work hard every day? 
CHRISTINE: I want to live a happy life without regrets and for that I make sure I do my very best at whatever I do, so at the end of the day when I lay on my bed I close my eyes telling myself "I'm proud of you c-t". Also, I have a lot of young people and even older people who look up to me and see my life as exemplary. I do not want to dash that trust in me. I work hard for them as well.
A-CHOICES: What is the one thing you can label as your guilty pleasure?
CHRISTINE: Oh my, I love the gym. There's something very empowering about knowing your body is strong and can support you through whatever.
A-CHOICES: If you are granted three wishes right now, what would you ask for?
CHRISTINE: This is a really tough one, I'll just tell you one wish I have and I'll keep the rest a secret lol, I wish for world peace and a clean and green environment.
A-CHOICES: Are there any projects that you are working on at the moment?Any community service activities or other business ventures?
CHRISTINE: Yes I have several projects I'm involved in, I partner with the mangrove marathon, which is a racing event held across Nigeria to spread awareness of mangrove protection. Also, I own an environmental NGO that partners with environmental projects that sensitize people about caring for their environment.
A-CHOICES: What has been a challenge you've experienced in life, and how did you overcome it?
CHRISTINE: In my 24 years on earth best believe I have had several challenges, my greatest challenge though has been a failure and it's really not easy picking yourself up and trying again, even though the motivational speakers will tell you differently. I have overcome failure with the help of an amazing support system, my family, and my friends oh I won't forget to mention my dog whom I hug and cry with. Having people who have your back and believe in you no matter what state you're in, is truly very valuable.
A-CHOICES: What has this time taught you?
CHRISTINE: hmmm, I have learnt so much, the most valuable thing I have learnt and I must share is the power of honesty, I've learned that the truth must always be your first go-to.
A-CHOICES: If you could be invisible for a day, how would you like to spend it?
CHRISTINE: Not to be vain lol but I would really love to spend it running on a beach with my dog and my favourite book in hand. Just soaking in all the amazing goodness of nature.
A-CHOICES: What is the one thing people would be surprised to know about you?
CHRISTINE: That I'm a comedian lol, I'm a very funny person. There's never a dull moment around me.
A-CHOICES: What do you love about Nigeria? What would like to change about Nigeria?
CHRISTINE: I love the people, I love Nigeria. I would like a better government, we're such a rich and diverse country and I would want leaders who would channel our potential for good and advancement.
A-CHOICES: What music are you listening to?Your favorite TV shows?Your favourite meal?
CHRISTINE: I'm a die-hard Nicki Minaj fan, so if you ever see me bopping my head best believe Nicki is playing somewhere. Currently, I'm watching this TV show called "You", it's quite popular and very intriguing. I'm Nigerian it won't be fair to not mention the renowned jollof rice.
A-CHOICES: Final question, is there anything you'd like to see change regarding beauty?
Christine: As each individual is unique and different, beauty should be defined by oneself, I don't believe in universal beauty standards, everyone is beautiful and unique just the way they are. Beauty trends come and go, they always do, never let them determine your self-worth.
Author: Gbenga Teejay Okunlola
London, UK
teejayok@gmail.com